Featured Guest: John J. Collins (Yale Divinity School)
Thursday, October 13 7:30pm; Belin Chapel
Title: Outside the Canon. The Literature of Second Temple Judaism, and Why It Matters: The Apocalyptic Genre

The School of Christian Thought is pleased to announce that John J. Collins will deliver the A. O. Collins lectures for fall 2016.

A native of Ireland, Professor Collins is the Holmes Professor of Old Testament Criticism and Interpretation at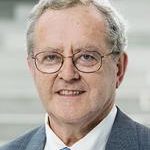 Yale Divinity School. He previously taught at the University of Chicago and the University of Notre Dame. He has published widely on the subjects of apocalypticism, wisdom, Hellenistic Judaism, and the Dead Sea Scrolls. Including among his many books are the commentary on Daniel in the Hermeneia series; The Scepter and the Star: The Messiahs of the Dead Sea Scrolls and Other Ancient Literature; Apocalypticism in the Dead Sea Scrolls; Jewish Wisdom in the Hellenistic Age; The Apocalyptic Imagination; Between Athens and Jerusalem: Jewish Identity in the Hellenistic Diaspora; Introduction to the Hebrew Bible with CD-ROM; He holds an honorary D.Litt. from University College Dublin, and an honorary Th. D. from the University of Zurich.
Please join us for this lecture.
It is an important event for our campus and community.  Should you have questions, please contact the chair of the Department of Theology, Dr. Jason Maston.
See also our upcoming lectures at our Annual Theology Conference: hbu.edu/TheologyConference.